There are certain special social events where nothing can be left to chance,
for those moments, call upon Event Magic.
You will be free to enjoy a momentous occasion as it occurs, while we take care of the details, seamlessly & professionally .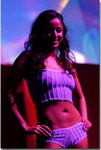 WE Take Great Pride In Providing Top Quality Event Services
Some Of Our Past Clients Include:
Saks 5th Avenue
Bill Graham Presents
Hip Hop Film Festival
San Francisco Antiquarian Bookshow Fisherman's Wharf Merchant Association
San Francisco Antique Show
City of San Rafael
Mercedes Benz
Hilton Hotels
Santana Row
Ruby Skye
Salon.com
Move Against Aids
San Francisco Fair

Our range of services covers many areas that other event planners may overlook...
Check in with us to find out how we can assist in successfully bringing your event to life. That's what Event Magic is all about!
Weddings
Holidays
Baby Showers
Graduations
Birthdays
Anniversaries
Family Reunions
Fashion Shows
Film Openings
Corporate Events
Team Building
Tradeshows
Festivals
Banquets
Concerts
We offer an array of popular services to augment event production.
Ask about our expertise in wedding coordination, invitations, guest list management, ticketing, valet parking and shuttles, crowd control and public safety, special v.i.p concerns, concerts, banquets, weddings, street fairs, fundraisers, media relations, venue selection, talent booking. stage management, catering, event staffing , audio / visual presentations, web design, digital videography, promotional tasks and much more.
Event Magic is a full service event facilitator that operates from our HQ in the San Francisco Bay Area servicing points throughout the U.S & Mexico. We operate our own 10,000 sq foot custom design studio and have a staff of talented artisans, presentation specialists and event coordinators.
Event Magic offers professional design and consulting for everything from family birthday parties to corporate events and black tie galas.

Contact Us Via Phone 415 286 6568 or Email Today!
or
Lighting - Videography - Photography - Catering - Entertainment - Party Rentals - Linens & Glassware - Tables & Chairs - Valets & Shuttles - Limousines - Event Planning & Coordination Services - Decor & Design Themes - Destination Weddings