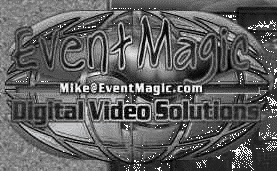 There are certain special social events where your memories must be preserved, and Event Magic has the expertise & technology to deliver those memories on DVD, webcasts or good ol' fashion tape.

We can handle various aspects of video production from the early stages of storyboarding & set creation to shooting, editing and final production details.

We specialize in affordable yet professionally done videos, whether it be a cutting edge music video or your wine country wedding.
Unlike many wedding videographers, the staff of Event Magic has worked on actual film and television productions, including award winning documentaries and independent films. Our production staff members have experience at capturing weddings as well as work on productions for the BBC, and Fine Line films.
We can efficiently capture your event from start to finish on high end digital equipment. We can achieve even greater professional results via the added value of editing.
Among our Services :
Digitize old photos and VCR tapes to DVD.

Archive, publish, and share your personal stories and multimedia images, including high-quality audio

Perform complex video editing to enhance the production.
These services are perfect for :
Weddings
Holidays
Baby Showers
Graduations
Birthdays
Anniversaries
Family Reunions
Fashion Shows
Film Openings
Corporate Events
Team Building
Tradeshows
Festivals
Banquets
Concerts
We offer an array of popular services to augment event production.
Ask about our expertise in wedding coordination, invitations, guest list management, ticketing, valet parking and shuttles, crowd control and public safety, special v.i.p concerns, concerts, banquets, weddings, street fairs, fundraisers, media relations, venue selection, talent booking. stage management, catering, event staffing , audio / visual presentations, web design, digital videography, promotional tasks and much more.
Event Magic is a full service event facilitator that operates from our HQ in the San Francisco Bay Area servicing points throughout the U.S & Mexico. We operate our own 10,000 sq foot custom design studio and have a staff of talented artisans, presentation specialists and event coordinators.
Event Magic offers professional design and consulting for everything from family birthday parties to corporate events and black tie galas.

Contact Us Via Phone 415 286 6568 or Email Today!
or
Lighting - Videography - Photography - Catering - Celebrity & Entertainment booking - Party Rentals - Linens & Glassware - Tables & Chairs - Valets & Shuttles - Limousines - Event Planning & Coordination Services - Decor & Design Themes - Destination Weddings - Centerpieces - Wine Tasting Events - Children's Parties