Lighting - Videography - Photography - Catering - Celebrity & Entertainment booking - Party Rentals - Linens & Glassware - Tables & Chairs - Valets & Shuttles - Limousines - Event Planning & Coordination Services - Decor & Design Themes - Destination Weddings - Centerpieces - Wine Tasting Events - Children's Parties
Wedding planning is my specialty. Event Magic can take the stress of planning a wedding away and coordinate any services already in place. Whether you are looking for an elegant traditional wedding or a themed wedding, our experience together will help you have the wedding you have always dreamed of.

We live in a fast paced society where there is little personal time. Planning a wedding is a consuming process with so many things to do - from finding locations to selecting vendors, the list often seems endless. Let Event Magic take your focus off wedding planning and on to getting married.
Using a wedding planner should not break your bank. My job, as a wedding planner is to save you money on services already in place and to get the best price from new vendors. A lot of vendors will automatically bump the price if they are talking to a bride or groom. You will be surprised at how much we can save you.
We can also organize you destination wedding. From a Mexican wedding in Puerto Vallarta to a themed tropical Hawaiian wedding. We can take you anywhere your heart desires.
Please consider Eddie Cantrell to help in any capacity for your special day. As little as bouncing ideas off me over the phone to planning the entire wedding from scratch, I just want to see your face when I tell you "don't worry about a thing, I have it all under control".
You can contact me anytime at 415-286-6568 or e-mail to presto@eventmagic.com for a free consultation. Here is a picture of my wife Tina (who helps out on a lot of my weddings) and I getting married in Mexico on June 14th, 2003.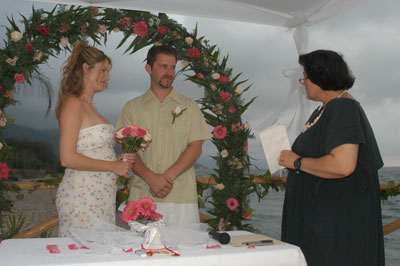 Contact Us Via Phone 415 286 6568 or Email Today!
or
Lighting - Videography - Photography - Catering - Celebrity & Entertainment booking - Party Rentals - Linens & Glassware - Tables & Chairs - Valets & Shuttles - Limousines - Event Planning & Coordination Services - Decor & Design Themes - Destination Weddings - Centerpieces - Wine Tasting Events - Children's Parties